Decolonising the arts: A student reflection
Sabine Verbree (23) and Tessa Bourguignon (22) are third-year students of the Art History track of Leiden University. In this blog Sabine and Tessa reflect on the documentary of Nieuw licht: 'Het Rijksmuseum en de slavernij', in light of the European Action Week Against Racism.
With some careful enthusiasm, we have noticed how the Dutch museum landscape is slowly but surely shifting. Stories and perspectives that previously received little to no attention, are now a prominent part of exhibitions. One example is the slavery exhibition of the Rijksmuseum that is planned for this year and is accompanied by the documentary Nieuw Licht - Het Rijksmuseum en de slavernij.
In 2017, the Rijksmuseum decided (for the first time) to devote an exhibition to slavery. Although the museum has always been open to all public, it seemed to belong more to the elite in practice due to the one-sided stories that were told. Words as diversity and inclusivity were not commonly used. Yet, in times of the global Black Lives Matter movement and the growing urgency for inclusion, the topic of slavery is impossible to ignore; even for a considerably white institution like the Rijksmuseum. Fortunately, we would like to say.
For this new exhibition, of which the opening has sadly been postponed due to Covid-19, special attention was paid to the diversity of the team. Valika Smulders, scientist and curator, has been active as head of history at the museum since the start of the exhibition. Stephanie Archangel contributed as junior curator of history. Their 'alternative' perspectives were much needed to design the exhibition. First it was assumed that the museum would not hold enough objects to put together a slavery exhibit. However, it turned out that many objects from the museum have a direct link with slavery. This becomes apparent in the documentary when the portraits of Marten and Oopjen are discussed. These well-known portraits by Rembrandt were nationally discussed in the news when they were bought in 2016, but one story wasn't told before.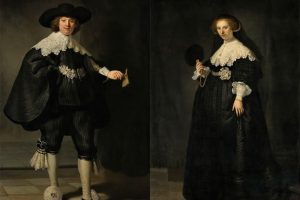 Marten's father has amassed his wealth from sugar plantations in the Caribbean and Oopjen's second marriage was to a man in possession of enslaved people.
We, as two art history students at Leiden University, had not heard many of these stories either in our time as students. Nevertheless, we can say we have noticed some changes now that we are in our third year. At the end of our second year, in the heat of the international BLM-demonstrations, we wrote a critical letter to the board of our studies. What we think matters most is creating and facilitating a safe space at the university, a place where we all feel heard and where we can find 'our' story represented. Almost a year has passed and we can happily say that we have seen how it has been positively received by our teachers, has been incorporated into the teaching material of some courses and has become a major topic within and outside the university's school curriculum.
However, we still see little diversity within the staff but also among the students of our studies. As the Rijksmuseum's documentary shows, a diverse team is essential to gain new insights and to make real progress on this topic.
It is exciting to be young and a student in a world that is changing so rapidly and drastically. Not only on the subject of inclusivity, but also considering topics as climate change, woman rights, and racism. Despite that, it can be though and it takes dedication to keep up. We think it is important to continue to reflect critically within the walls of the university, but also outside of that and after our studies. The slavery exhibition presents a promising vision of the future, but if this development is leading for the museum scene of the future, much remains to be done. Especially in the places where it all starts, in education.
Het rijksmuseum en de slavernij
If you are curious about the documentary that Sabine and Tessa reflected on, you can watch it for free via this link.